virginia spirits
the brief
Empowering Virginia's distillers with an exciting vision for the future
our goal
Our goal was to create a timeless story that paid homage to Virginia's pioneering history - first as explorers of the new world, and second as the "birthplace of American spirits." The new brand is a celebration of what Virginia and Virginians have to offer the craft spirits industry and it recognizes the pioneering spirit of all of Virginia's 56 unique distillers.
the insight
exploration unites distillers, drinkers, & virginians
Our promise of "endless exploration" derives from both the craft spirits makers and craft spirits appreciators who are passionate about Virginia craft spirits. We were fascinated that new flavors were being explored and celebrated through collaborations like Vitae Spirits' partnering with their neighbors Ace, Biscuit, and Barbecue to flavor their golden rum and Hardywood's collaboration with Reservoir Distillery to make a gingerbread beer whiskey. We also found this thread of "exploration" existed among current fans of craft spirits who describe every sip as an exploration of complex, frequently home-grown ingredients and new flavors.
Insight
Craft distillers are passionate explorers.
We saw explorations happening all over Virginia through local collaborations: breweries and distilleries creating limited edition beer whiskeys, barbecue joints lending their charred barrels to distillers to give their rum completely new and distinct flavor. These distillers were more than artisans, they were pushing the limits of craft spirits. They were explorers.
We also knew that historically, Virginia is known as the birthplace of the nation. To be a Virginian is to be a pioneer. It is about exploring new territories and pushing boundaries.
When we saw Virginia craft spirits in this light, we realized what we could stand for.
Brand promise
virginia spirits are a gateway to a universe of endless exploration
Our brand promise, "Virginia Spirits are a gateway to a universe of endless exploration," sets the stage for an exciting future full of exciting possibilities. As Virginia's craft spirits continue to evolve, so too will the flavors and collaborations with local partners.
Manifesto
We are makers, dynamic, and creative.
Our heritage has taught us to pioneer the undiscovered.
We are curious, nimble, and boundless, always pushing for the original
We invent by collaborating, using landscape and community to concoct flavors that surprise and awe.
We believe in craft and its journey, ever changing and ever evolving.
The exploration of uncharted territories is what drives us.
We craft in pursuit of discovery.
Virginia Spirits.
Endless Exploration.
Brand Identity
Design Inspiration
Our stakeholders disliked how big brands used "cliche visuals" to represent craft spirits (barrels, open fields, and chopped wood). We wanted to get away from that. We inspired the creatives with a deck of unexpected Virginian art. We pulled from Virginian illustrators, knitters, street artists and more.
Design Objective
Promise the future of craft spirits while paying homage to Virginia's history.
look and feel
Virginia Spirits is embracing a lively new logo and identity system that reflects the new brand. The look and feel is inspired by Virginia's vibrant landscape, its explorers, and the individual makers of the state of Virginia. The logo shape refers to a droplet of a craft spirit and a blend of old and new typography is used within the design to nod not only to the history of the industry, but also to suggest a forward look to future possibilities. The new brand and messaging encourage people to explore the endless universe of Virginia Spirits.
communications
an invitation to explore
website
We redesigned the website, making it easy to browse and explore Virginia products and distilling history.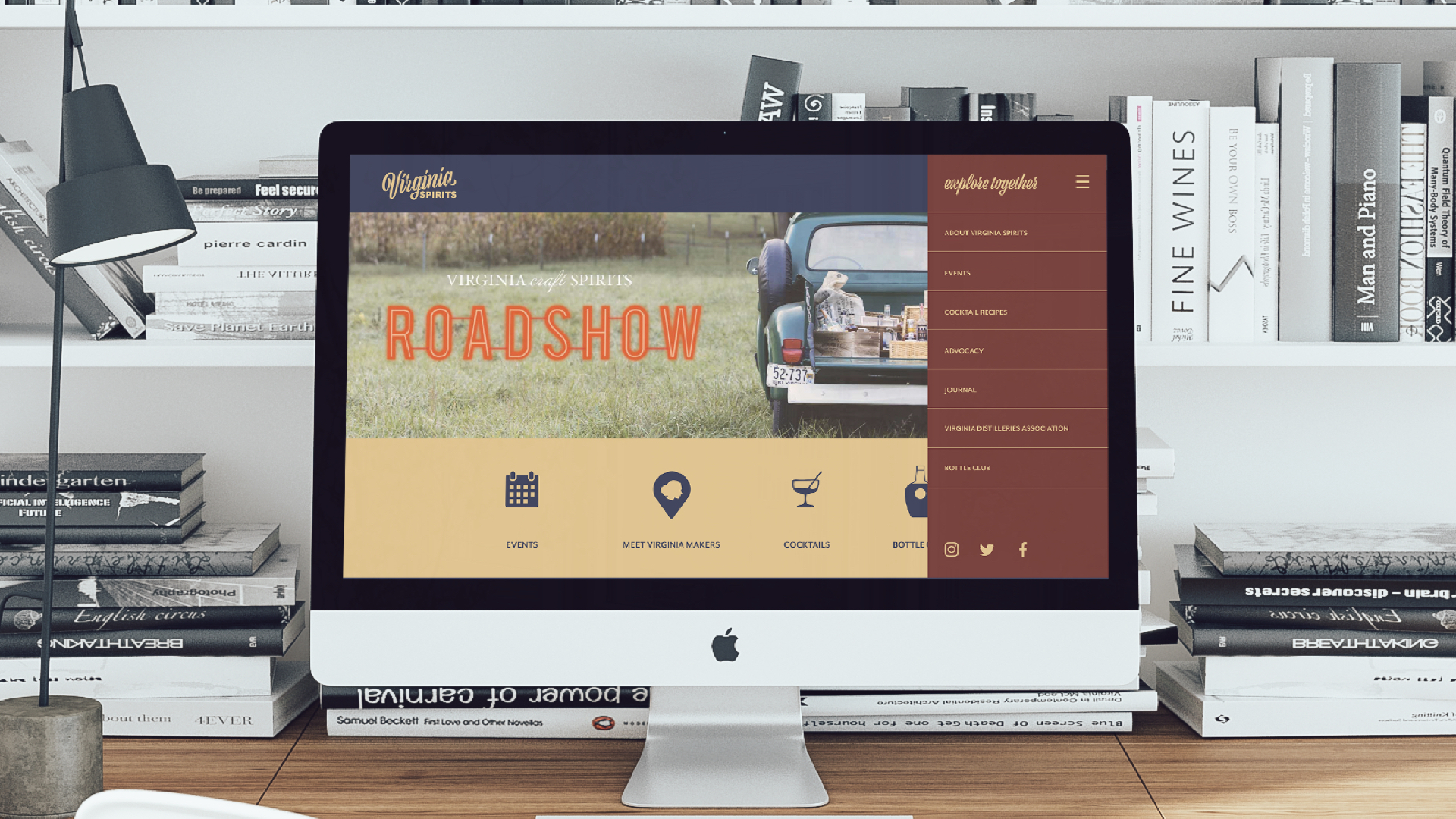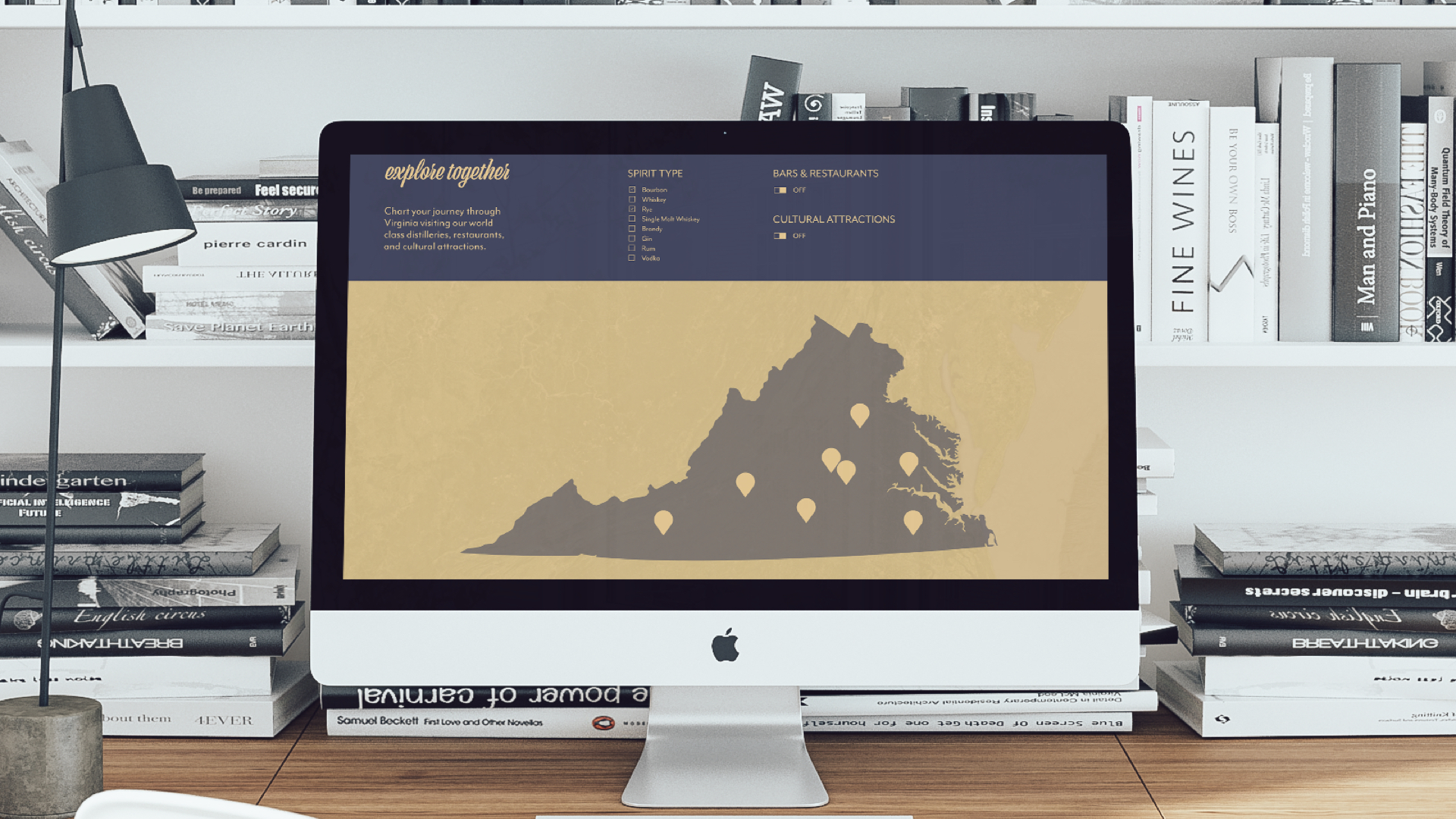 Solving a major pain point
Virginia takes pride in supporting local goods, but craft spirits had yet to gain local support. So we created materials to educate local restaurants and liquor stores to support Virginia craft spirits.
Explore Virginia
Our client has worked closely with Virginia tourism in the past. We wanted to strengthen that partnership. We created a map to encourage tourists and locals to explore the 56 distilleries Virginia houses.
Info tags & stickers
Every bottle is a touchpoint. Every Virginia craft spirit comes with an info card to encourage drinkers to explore what Virginia has to offer. Stickers are a gamification element that works with the map pictured below.
Recipe cards inside liquor stores
Not only would recipe cards call out craft spirits in liquor stores, they would be a great way to educate employees.
A party for ABC employees
Virginia is a control state, meaning, the government regulates all liquor sales under one store - the ABC. We visited local ABC stores and found that the majority of employees did not know the difference between local and mass-produced spirits. What if we hosted parties for ABC employees? They could have a little fun, some free booze, and learn about Virginia spirits in the process.
Menu stamps to raise awareness
We noticed that bars and restaurants offered Virginia spirits, but didn't indicate that they were local brands.These stamps would be an easy and inexpensive way to update local menus to raise awareness.
team
Eliza Hadjis - Strategist
Joe Bae - Strategist
Chelsea Sams - Creative Brand Manager
Allison Rinaldi - Art Director
Tony Jorgensen - Copywriter
Tyler King - Experience Designer